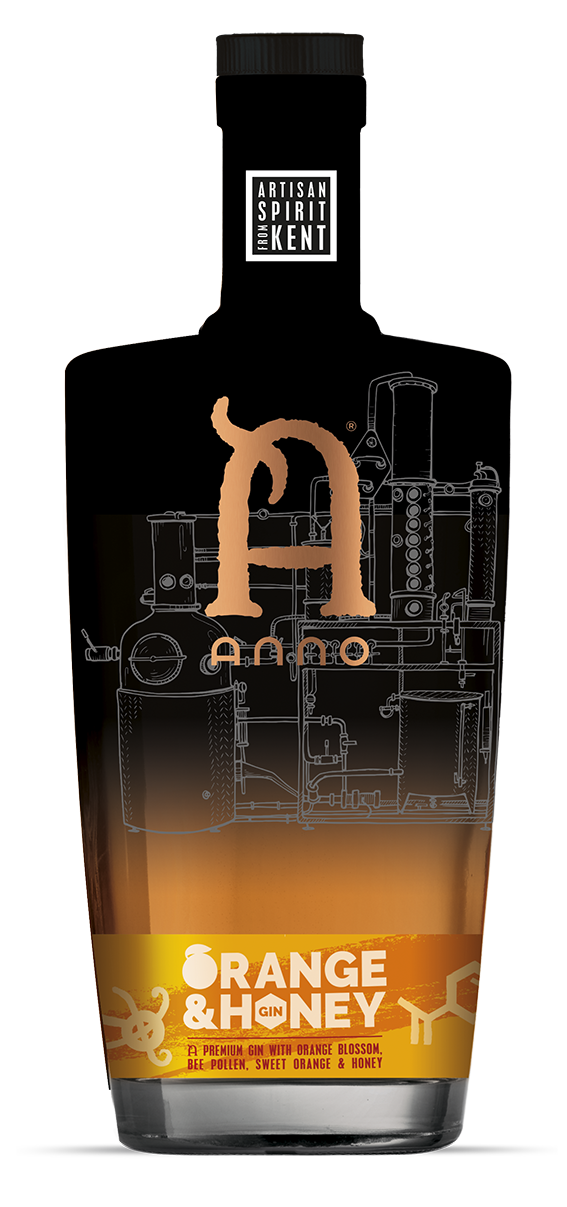 Anno Orange & Honey Gin
Delivering a bold citrus burst, Anno Orange & Honey Gin infuses zingy orange zest and locally sourced honey with subtle spices, ginger and nutmeg to create a refreshing taste that will awaken your palate.  Whilst enjoying your Anno Orange & Honey Gin drink, you may wish to reflect on the important role bees played in the development of ingredients to tingle your taste buds.  Bees are vital to our ecosystem, especially here in Kent, the "Garden of England", which is why we've teamed up with Bee Friendly Trust to support their mission to create habitats for honey bees and all pollinators to thrive.  Knowing that Anno are making a donation for every bottle sold should make your drink taste just that little bit sweeter!

Available in single 70cl bottles, cases and 5cl miniature bottles which make great wedding favours.

ABV: 40% (Vegetarian friendly.  Contains honey).
Tasting notes
Appearance
A vibrant orange hue with a glistening honey tint.
Taste
An immediate burst of citrus orange zest gives way to the complex sweetness of orange blossom and bee pollen, carefully balanced with the tones of light honey.
Nose
A zesty, punchy, fresh orange fragrance delicately sprinkled with sweet natural honey and light treacle aromas.
Finish
Long and sweet with woody notes, juniper and spices which linger tenderly on the palate.
Botanicals