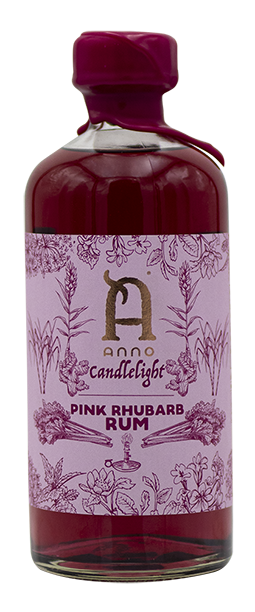 Candlelight Pink Rhubarb Rum
Behind the hedgerows of the British countryside, Anno has selected sweet, pale rhubarb, grown in darkness. Picked traditionally by candlelight, this versatile fruit is blended with fresh ginger to give our Kentish rum a kick to stimulate the senses. Pair with a cold lemonade, add an exciting twist to a Mojito, or drink neat on the rocks to savour this distinctive flavour.
Fermented and distilled in Kent with a melange of botanicals using a fusion of Caribbean and English brewing styles, we tuned Patience to replicate the smoothness and characteristic flavour of a Jamaican double-retort still, infused with American Oak and Kentish Applewood.
Available in single 70cl bottles, cases and 5cl miniature bottles which make great wedding favours.

ABV:40%
Tasting notes
Taste
Fresh and sweet with zesty ginger
Finish
Crisp finish
Botanicals