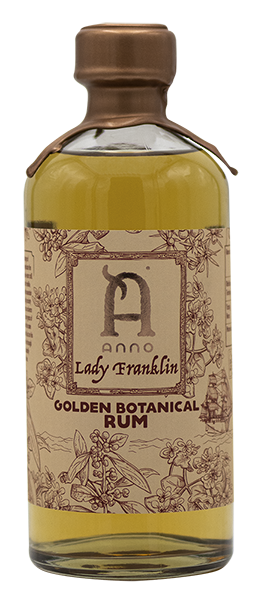 Lady Franklin Golden Botanical Rum
Fermented and distilled in Kent with a melange of botanicals
and spices, we tuned Patience to replicate the smoothness and complexity of a Jamaican double-retort still. The botanicals follow the journey of Lady Jane Franklin; adventurer, botanist and reformer. We begin with mountain pepper from Tasmania, where she shook up high society in the 1830's by replacing dances with lectures on science and botany. We mark her final days with the scurvy grass of Out Stack, where she would travel to be under the same Northern Lights as her husband, Sir John Franklin, lost on his quest for the Northwest Passage: one warm line through the frozen wilds, finally discovered accidentally during one of the expeditions to find him.
Available in single 70cl bottles, cases and 5cl miniature bottles which make great wedding favours.

ABV: 40% (Vegan and Vegetarian friendly).
Tasting notes
Taste
Spicy with citrus notes, subtle aromas of brown sugar and tropical fruit
Botanicals