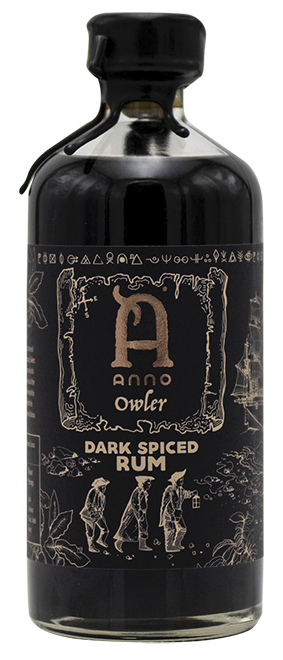 Owler Dark Spiced Rum
With a base of black treacle and the distinctive flavour of tonka beans, Anno's Dark Spiced Rum takes you to a time of smugglers, their lanterns shining dimly against a rough seascape. Owlers operated in Kent, working at night and signalling with covert owl calls and secret signs. These smugglers transported valuable wool out of the country, a lifeline for farmers whose livelihoods had been destroyed by erratic export bans and heavy duties. The Owlers dodged both the Taxman and the local Dragoons, risking execution to perform hard labour for twelve pence a day.
Fermented and distilled in Kent with a melange of botanicals and spices using a fusion of Caribbean and English brewing styles, we tuned Patience to replicate the smoothness and characteristic flavour of a Jamaican double-retort still, infused with American Oak and Kentish Applewood.
Available in single 70cl bottles, cases and 5cl miniature bottles which make great wedding favours.

ABV: 40% (Vegan and Vegetarian friendly).
Tasting notes
Taste
Rich and complex, notes of vanilla, raisin and burned sugar
Finish
Long spicy finish
Botanicals